Previous Concerts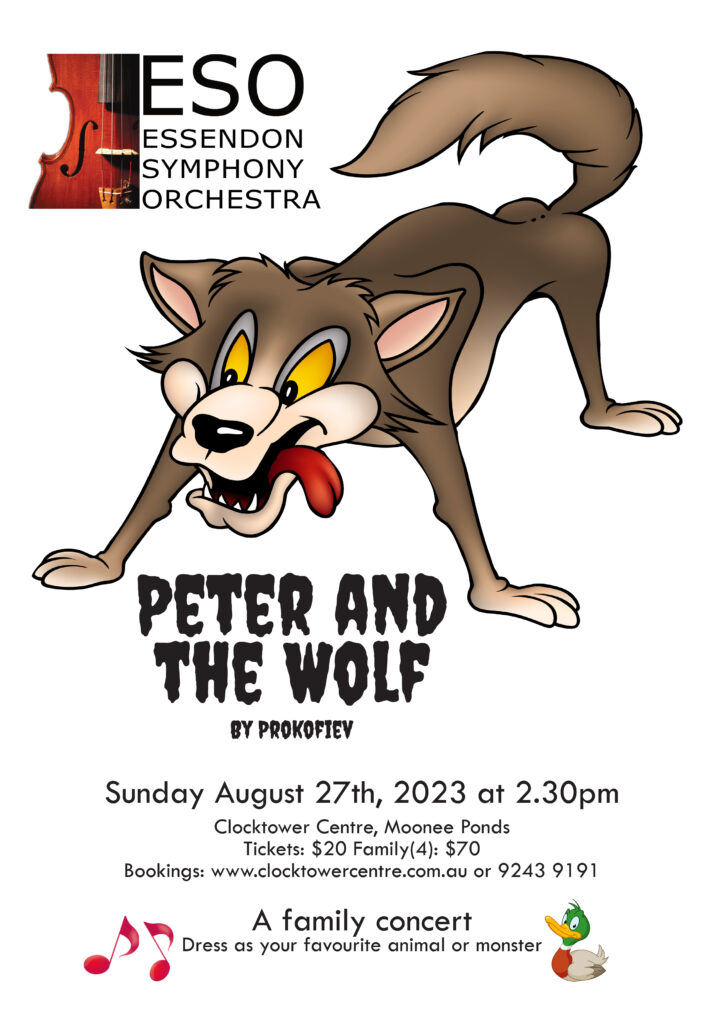 Peter and the Wolf - a Family Concert - August 27, 2023
Peter and the Wolf is a family and orchestral favourite. Dress up as your favourite animal or monster and join us for this kid-friendly concert with great music for all the family.
Music includes:
How to Train your Dragon
Peer Gynt Suite
Peter and the Wolf
Clocktower Centre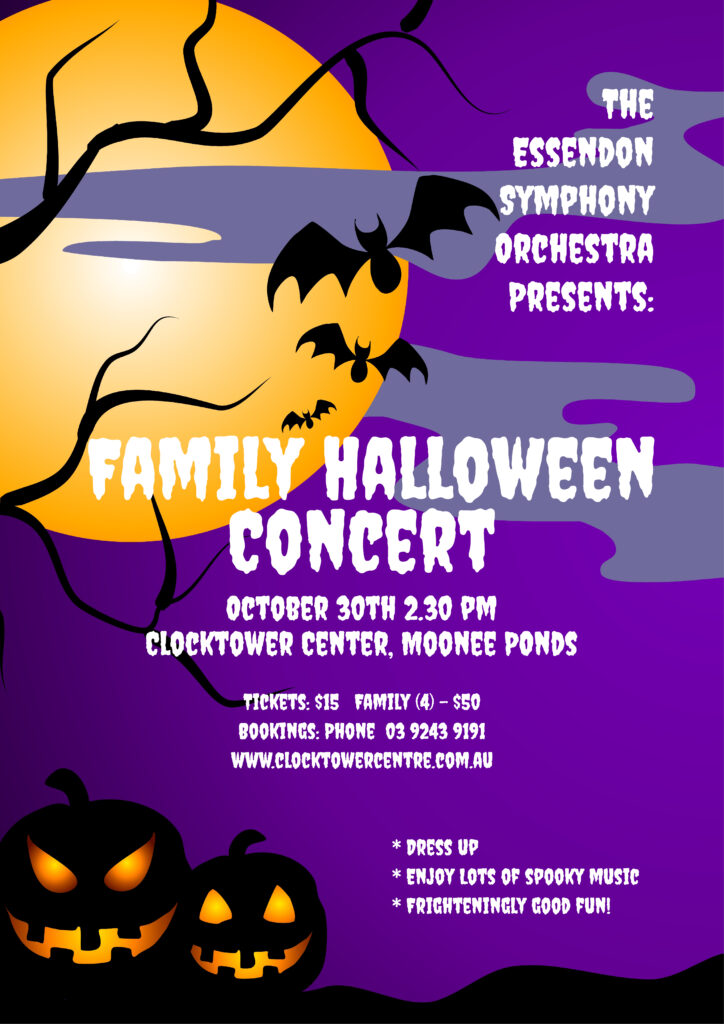 Family Halloween Concert - October 30, 2022
This is going to be the best fun ever! Get your costume organised be ready for some fun. Some spooky classical music including Danse Macabre and Night on Bald Mountain, mixed with some scary lighter music like the Adams Family and GhostBusters!
A fun 1 hour concert for all ages.
The orchestra will be dressed to kill…….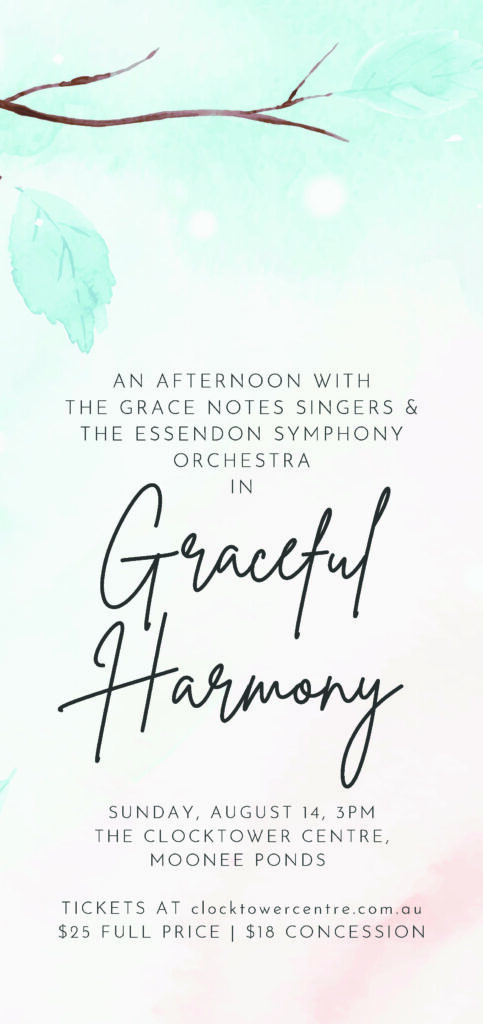 Graceful Harmony - August 14, 2022
We are delighted to be combining with the Grace Note Singers for this concert.
Featuring:
Mendelssohn – Excerpts from Midsummer Night's Dream
Humperdink – Hansel and Gretel Overture
Ola Gjeilo – Song of the Universal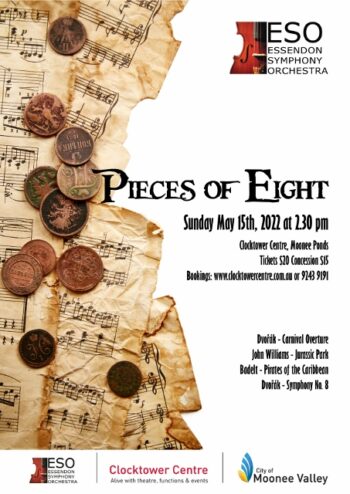 Pieces of Eight - May 15, 2022
Dvorak – Carnival Overture
Williams – Jurassic Park
Badelt – Pirates of the Caribbean
Dvorak – Symphony No. 8
Clocktower Centre, Moonee Ponds
Chamber Concert - May 2, 2021
Mozart – Divertimento in D'
Copland – Appalachian Spring
Wagner – Siegfried Idyll
Beethoven – Septet opus 20. 1st Movt
Gillingham – Three Ships
Bourgeois – Serenade
And Gliere – Russian Sailor's Dance
Clocktower Centre, Moonee Ponds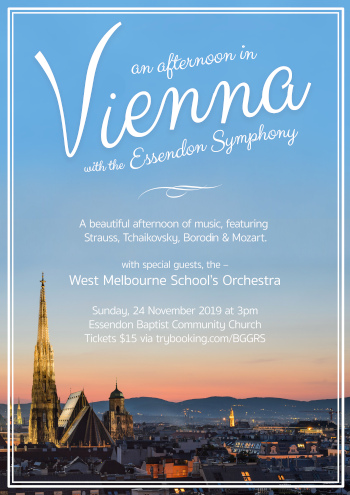 An Afternoon in Vienna - November 24, 2019
A beautiful afternoon of music featuring Strauss, Tchaikovsky, Borodin, and Mozart.
With Special Guests – The West Melbourne School's Orchestra.
Essendon Baptist Community Church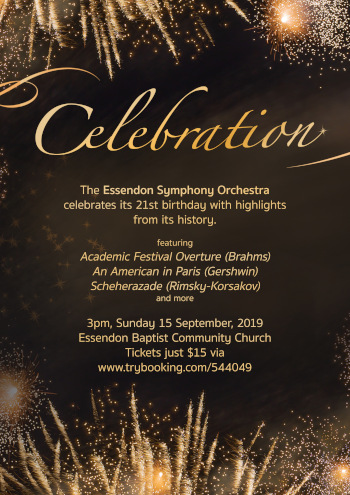 Celebration - September 15, 2019
The Essendon Symphony Orchestra celebrates its 21st Birthday with highlights from its history.
Academic Festival Overture – Brahms
An American in Paris – Gershwin
Scheherazade (1st Movement) – Rimsky-Korsakov
Funeral March of the Marionette – Gounod
Nimrod (from Enigma Variations) – Elgar
Essendon Baptist Community Church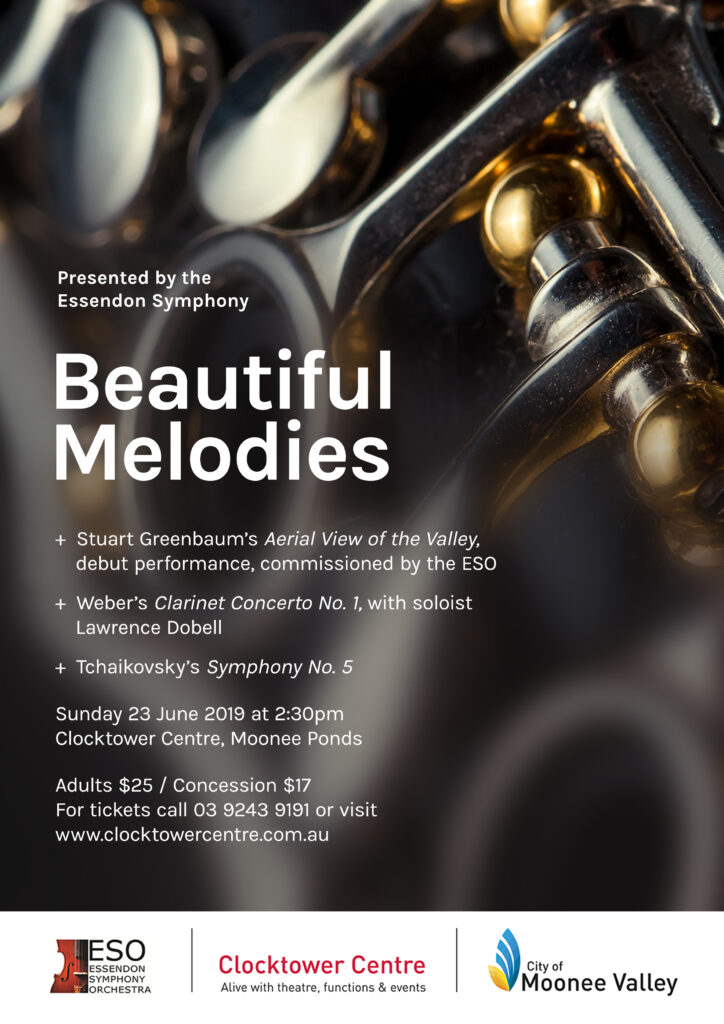 Beautiful Melodies 3 - June 23, 2019
Debut performance of Aerial View of the Valley a unique work by Stuart Greenbaum commissioned by the Essendon Symphony.
Symphony No 5 – Tchaikovsky
Clarinet Concerto No 1 – Weber
Aerial View of the Valley – Stuart Greenbaum
Clocktower centre, Moonee Ponds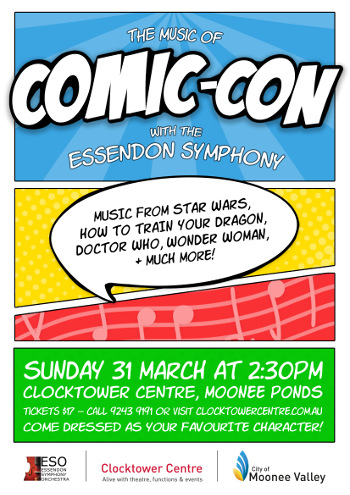 The Music of Comic-con - March 31, 2019
Excerpts from The Sorcerer's Apprentice – Paul Dukas
How to Train Your Dragon – John Powell
Doctor Who: Through Time and Space – Murray Gold
The Barber of Seville Overture – Gioacchino Rossini
Excerpts from Harry Potter – John Williams
The Clocktower Centre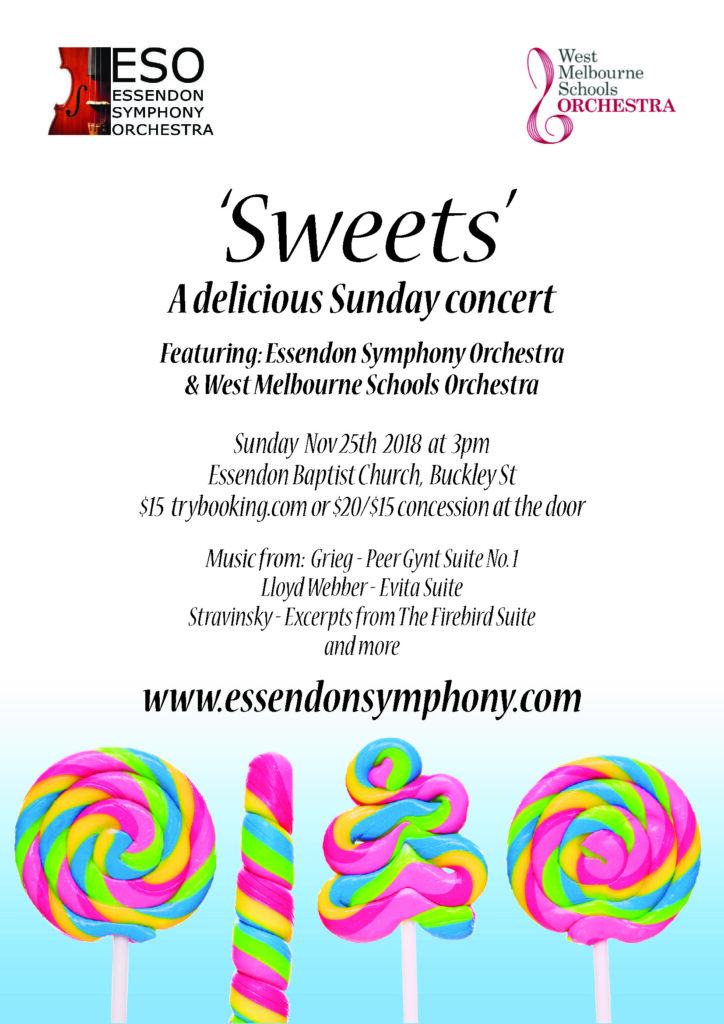 Sweets - November 25, 2018
Peer Gynt Suite No. 1 – Grieg
Evita Suite – Lloyd Webber
Der Freischutz – Weber
Selections from Firebird – Stravinsky
Essendon Baptist Church, Buckley Street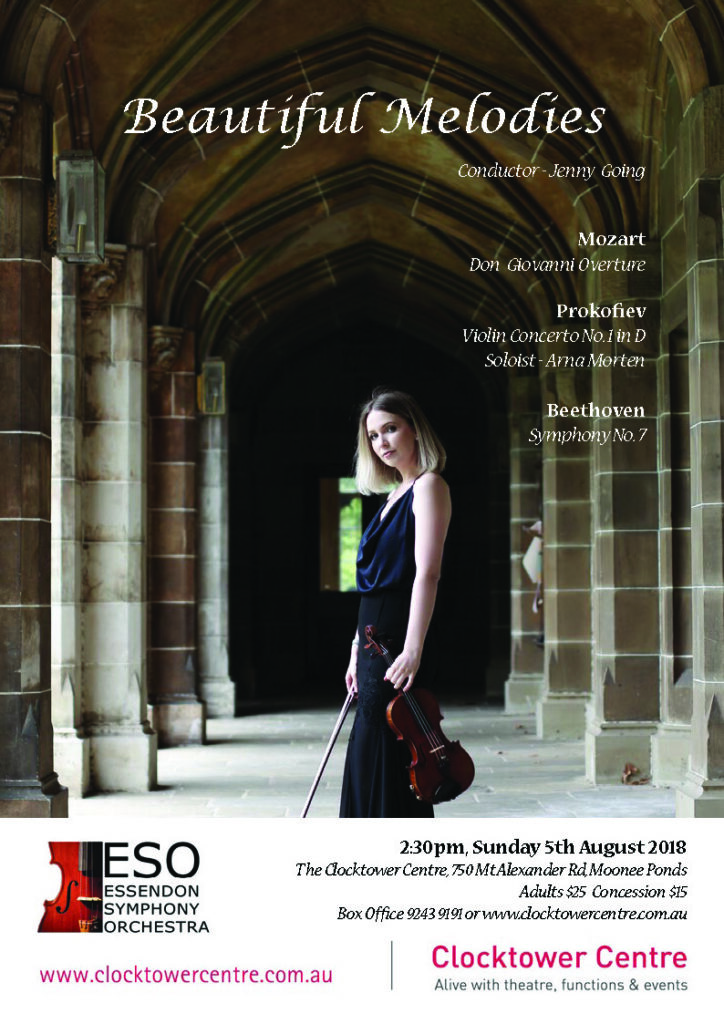 Beautiful Melodies 2 - August 5, 2018
Don Giovanni Overture – Mozart
Violin Concerto No. 1 in D Major –  Prokofiev
Symphony No. 7 in A Major – Beethoven
Soloist – Arna Morten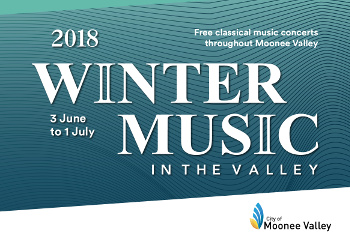 Mozart, Mendelssohn and More - June 3, 2018
With West Melbourne Schools Orchestra
Marriage of Figaro Overture – Mozart
Fingal's Cave – Mendelssohn
Throughout the Moonee Valley.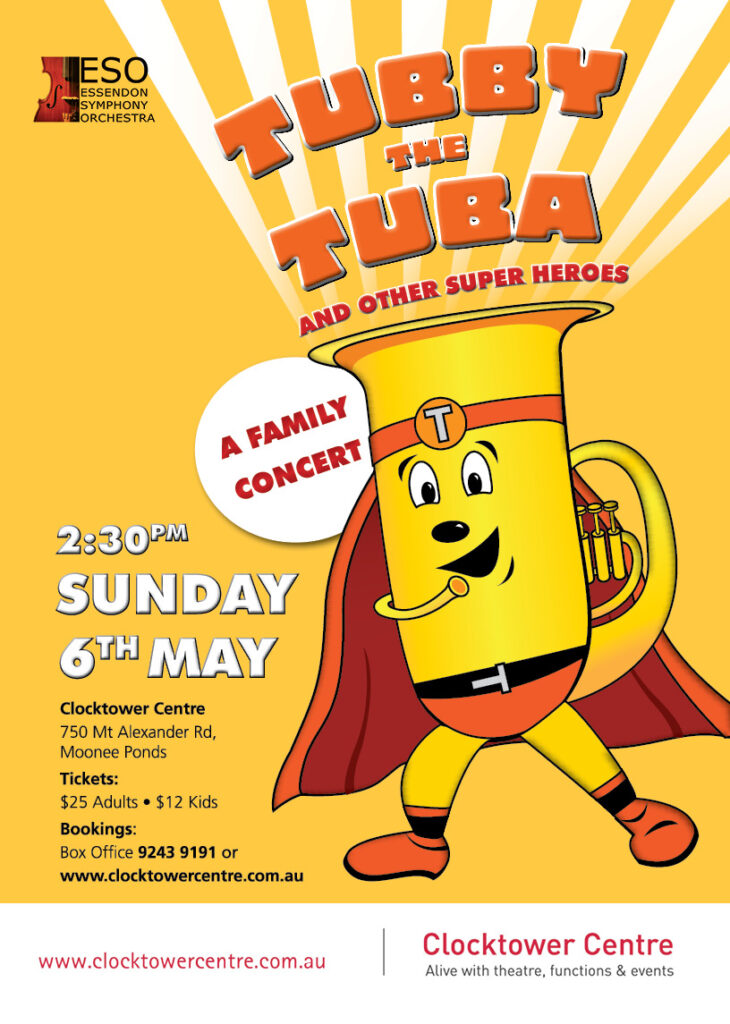 Tubby the Tuba - May 6, 2018
Featuring:
Daniel Bogemann on Tuba
Adrian McEniery as our narrator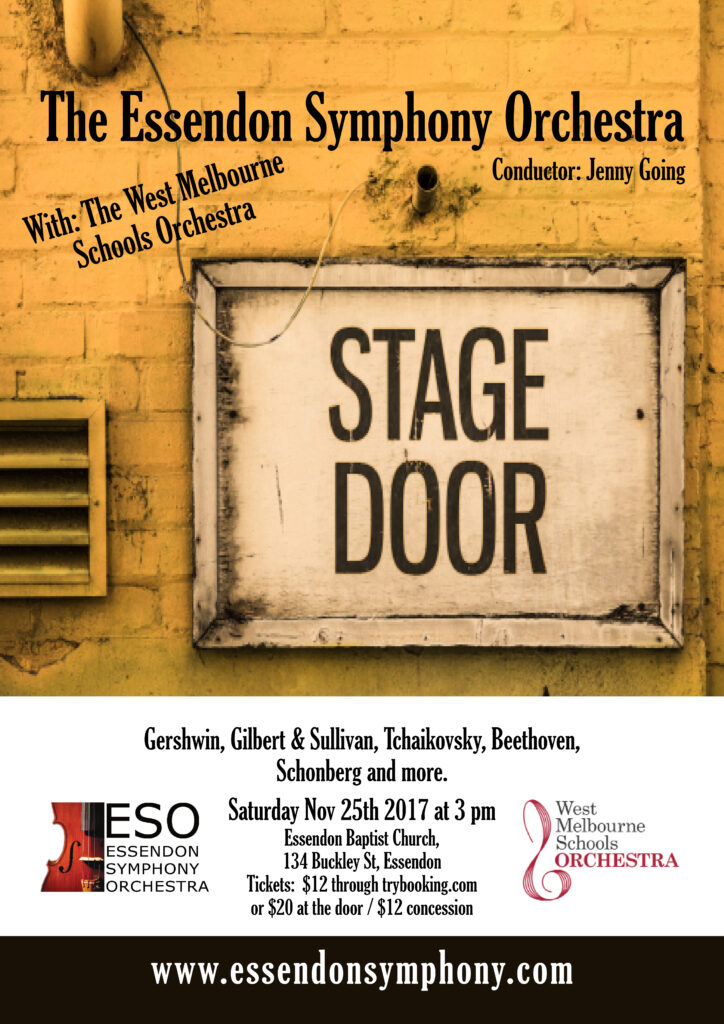 Stage door - November 25, 2017
American in Paris – Gershwin
HMS Pinafore – G & S
Les Miserable – Schönberg
Polonaise from Eugene Onegin – Tchaik
In the Steppes of Central Asia – Borodin
 Fidelio – Beethoven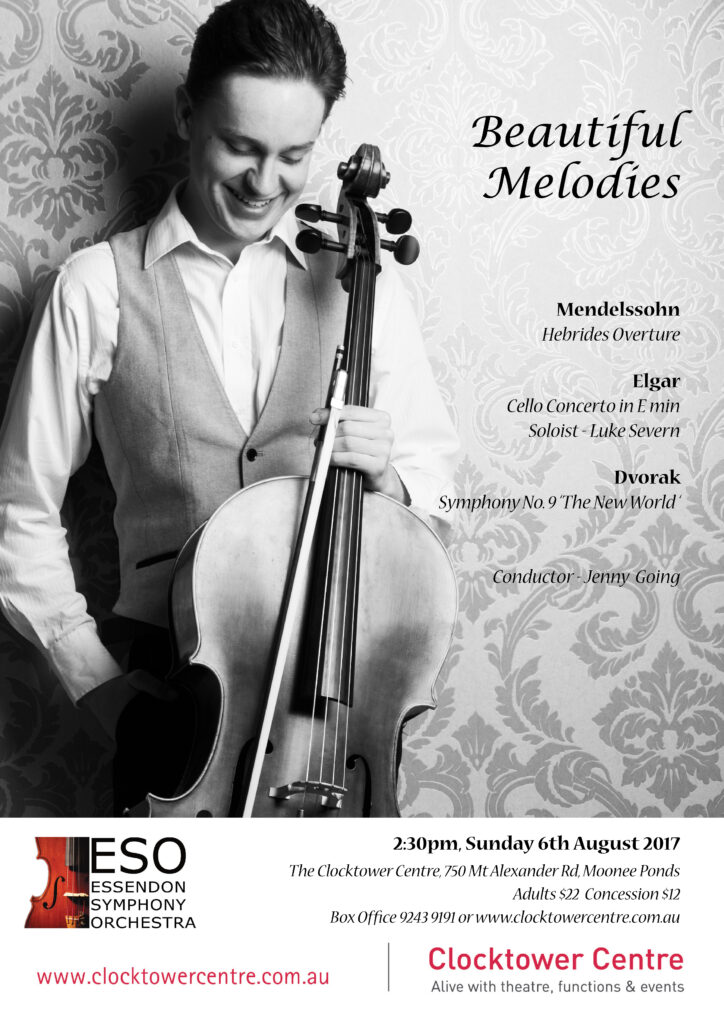 Beautiful Melodies - August 6, 2017
Mendelssohn – Fingal's Cave
Elgar – Cello Concerto
Dvorak – Symphony No. 9
Soloist -Luke Severn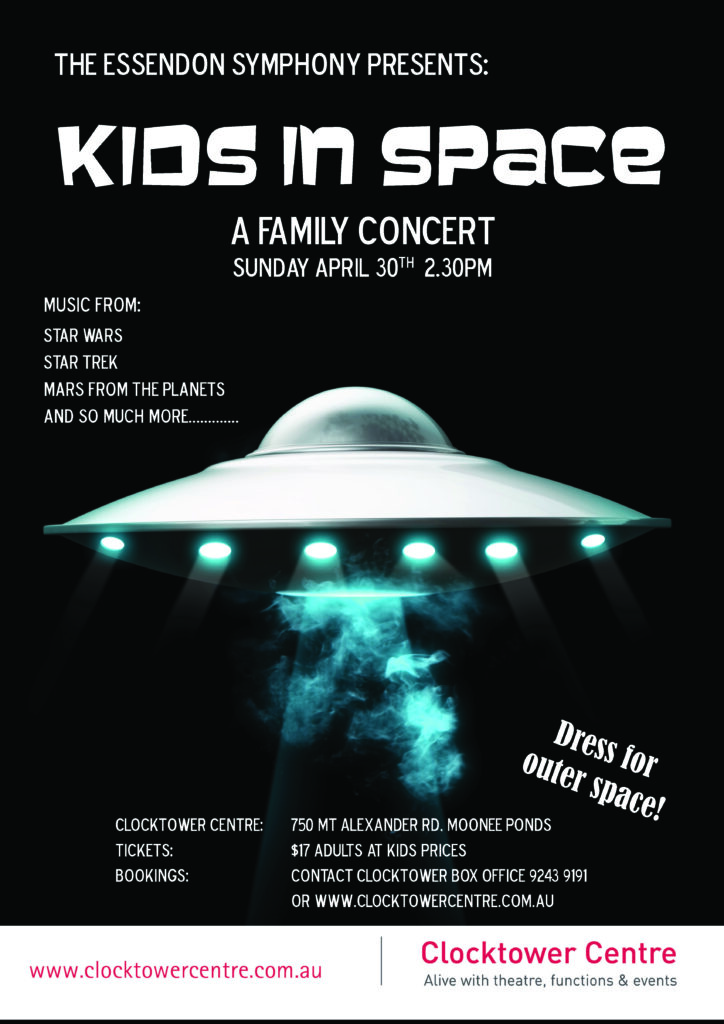 Kids in Space - April 30, 2017
Star Wars suite – Williams
Mars (from The Planets) – Holst
Theme from Also sprach Zarathustra (from 2001 Space Odyssey) – Strauss
Theme from Star Trek – Goldsmith
Apollo 13 – Horner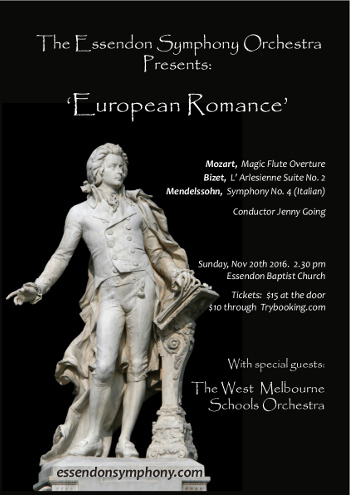 European Romance - November 20, 2016
L'Arlésienne Suite No. 2 – Bizet (including the famous Farandole movement)
Symphony No. 4 in A Major (Italian) – Mendelssohn
The Magic Flute (K. 620) Overture – Mozart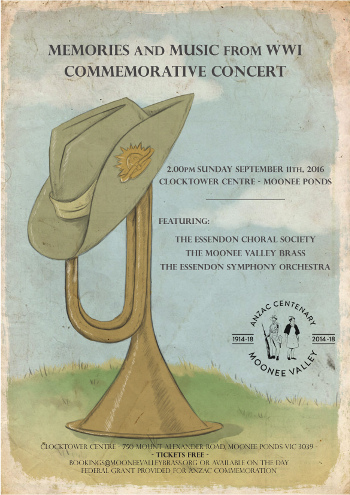 Memories and Music from WWI - September 11, 2016
Light Cavalry Overture – von Suppé
Nimrod (from Enigma Variations) – Elgar
Jupiter (from The Planets) – Holst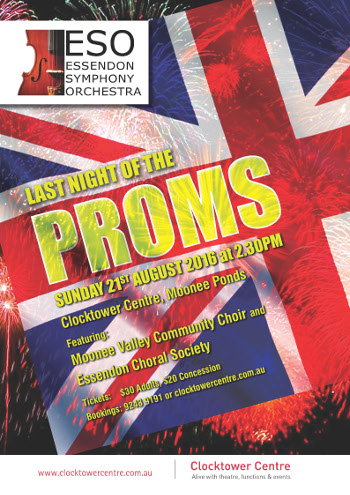 Last Night of the Proms - August 21, 2016
Symphony No. 5 (First Movement) – Tchaikovsky
Finlandia – Sibelius
Shepherd's Hey – Grainger
Children of Sanchez – Mangione
Pomp and Circumstance – Elgar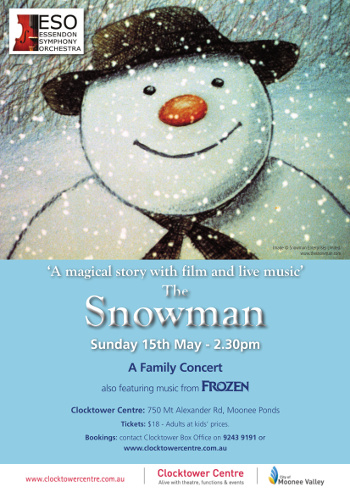 The Snowman - May 15, 2016
The Snowman – music by Howard Blake
Medley of tunes from the movie FROZEN
Thunder and Lightning Polka – Strauss
Symphony No. 6 Fourth Movement (Thunder Storm) – Beethoven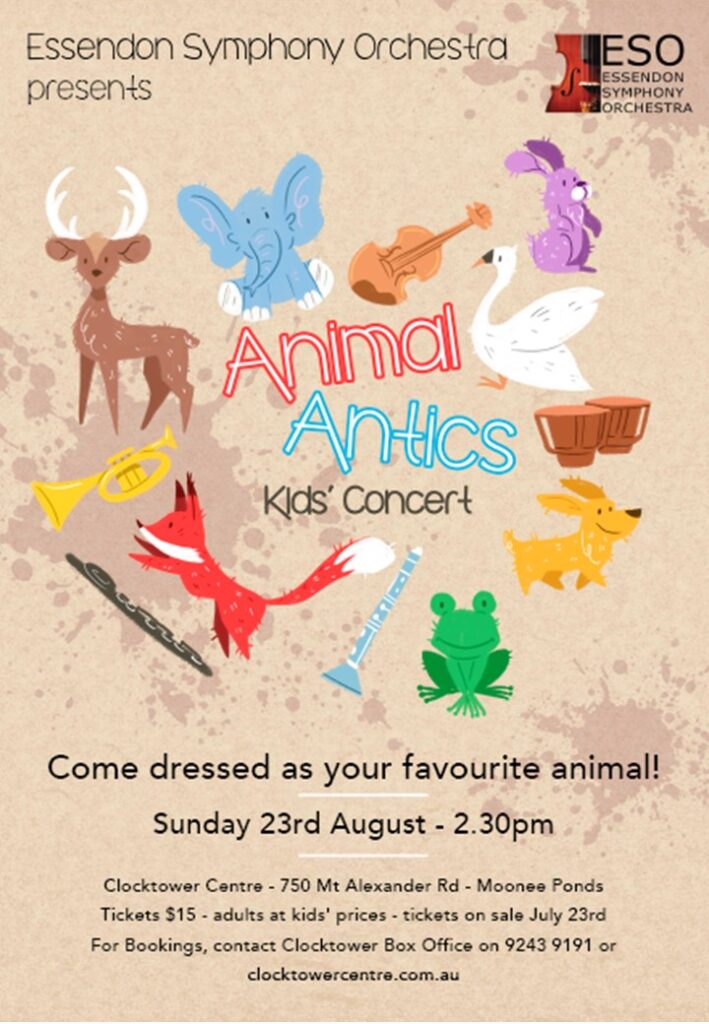 Animal Antics - August 23, 2015
Carnival of the animals – Saint-Saens
Teddy Bears Picnic – Bratton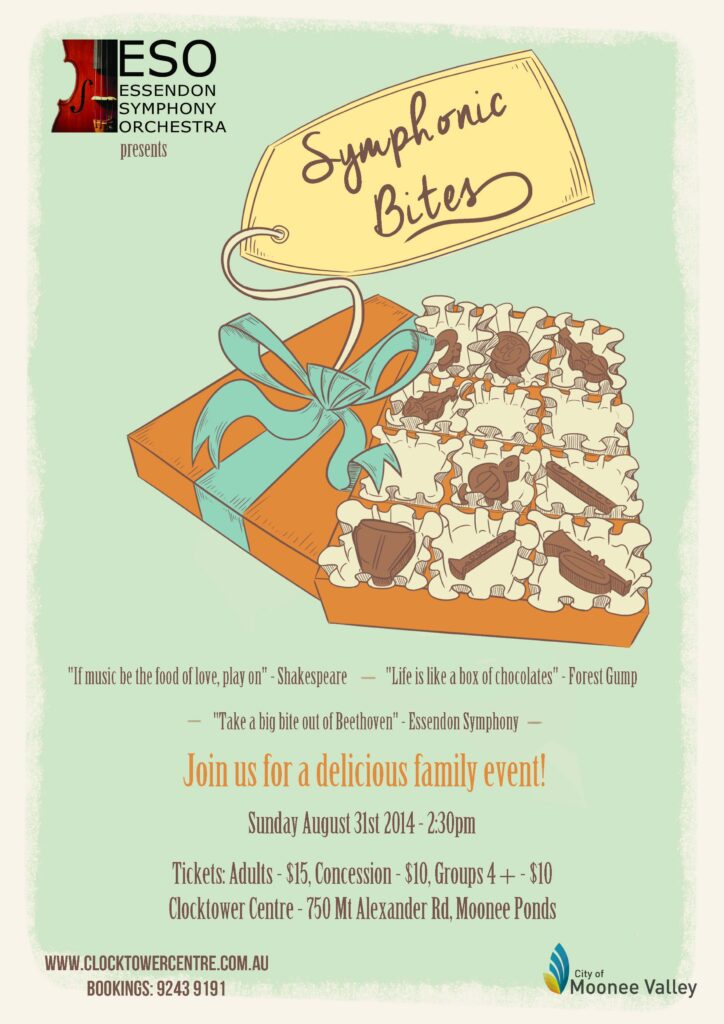 Symphonic Bites - August 31, 2014
West Side Story – Bernstein
Symphony no. 5 (1st movt) – Beethoven
Cello Concerto no. 1 – Haydn
– Soloist Eric Schmidt
Magic Island – Paul Stanhope